I used to love lamb.
That's until I found hogget - which is a lamb that has aged beyond its second spring.
Hogget tastes less fatty and more goaty (a word I've never written before) than lamb.
I really loved hogget.
Traditionally, most lamb eaten in this UK was actually hogget. It's only in the last century that we started eating younger 'spring lamb' - lambs of bygone decades wouldn't have gained enough weight in their first year to be worthy of eating. Better breeding and feeding has switched our focus to younger meat.
Anyway, I loved lamb, then I loved hogget, but now I don't eat meat, so I have to use the past tense - I used to love them both.
Other countries eat mutton. But in the UK we don't - perhaps this has something to do with the economics of the meat supply chain? Or, maybe it's some other anthropological nugget that drives our carnivorous habits?
Lamb is young.
Embarrassingly, it's kind of like eating babies. Which, out-of-context sounds horrific.
Hogget is teenage lamb. Eating teenagers feels more respectable, right?
Mutton tends to be around 3 years old, but not much older. Once a sheep hits its 5th birthday, you may as well chew on tree bark for nutrition.
Demographically, farmers need to kill little boys and keep little girl lambs. Otherwise, there's no breeding supply chain for future generations.
Some sheep are farmed For wool. Others for meat. But farmers can't breed them for wool for 5 years and then sell them for meat - because nobody wants to eat tough mutton.
Apart from wolves.
I'm bored of my own blog already, so I'm going to change subject slightly.
Recently, we launched one of our annual Resulting Research Reports. They're quite big undertakings and always give me a lot of food for thought.
This one is entitled The extinction of the monolithic SAP system and it talks about how the world of ERP has turned upside down over the past 3 decades, with large enterprises clamouring for integration in the 1990s, and now wanting disintegration in the 2020s.
It also puts some real (and shocking) stats behind Gartner's Composable ERP theory.
G00723613 - The Future of ERP Is Composable
Within our research, we also repeated a question we've asked now across 3 consecutive research projects - How far out is your move from ECC to S/4HANA?
The results, as you can see, are interesting.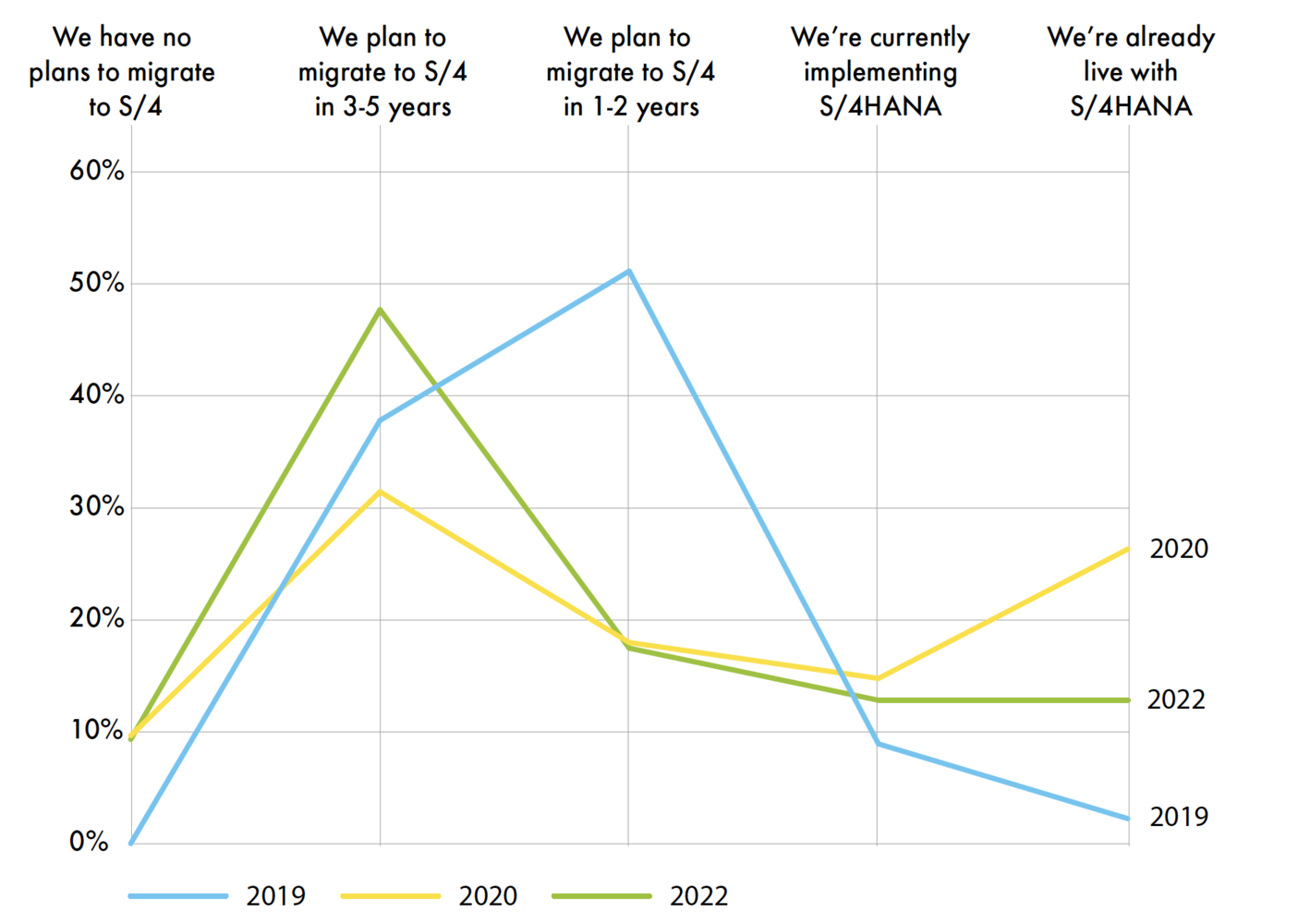 Across a 3 year period, somewhere between 30% and 47% of SAP customers polled (this time we spoke to 120) said that their move to S/4HANA was 3-5 years away.
The lion's share seem to have the same planning horizon, but the horizon isn't getting any closer. In fact, a larger proportion are saying 3-5 years now than they were 3 years ago, and we might expect this to be a growing group.
In 2019, a larger proportion (50%) said they were planning on a 1-2 year horizon, but this appears to have reduced more recently down to 18%.
The railway track is rattling at Mannheim station, but the S/4HANA train is nowhere in sight.
3-5 years is 'mutton' territory. If your local farmer lambed in 2022, it'd be inedible mutton before 50% of SAP ECC customer have moved to S/4HANA.
1-2 years is 'hogget' territory. The same spring lamb will be a tasty goaty teenager by the time 20% of ECC customers have moved to S/4HANA.
Unfortunately, I don't believe their optimism. There's extreme positivity bias at play.
Every week, I'm talking to SAP customers who have vague skeleton timelines, with no real meat on the bones. They have optimistic schedules in a marketplace where on-time delivery has a very woolly track record.
Plus, there's the macro-economic SAP skills shortage problem that I've rambled about in the past - there's much greater demand for SAP expertise than the market has offer due to an ageing workforce that has not been replenished. This means that salaries and rates will increase, and companies will look to switch ERP all together as SAP becomes the more expensive choice as a core business application.
Plus, with 96% of SAP customers stating that a single monolithic ERP solution isn't part of their future thinking - the possibility of many switching out some (or all) of their SAP ECC functionality seems pretty high.
Over the past 3 years, while these stats have been playing out, and bookending the pandemic, we've been working hard to address this problem for SAP customers.
And, we've built the coolest piece of technology I've ever had my cloven hooves on.
It's called FusionGraph and it enables SAP customers to visualise their current ECC usage, and overlay all of the new features and functionality available in S/4HANA - so that they can build a bottom-up roadmap and business case for S/4.
It enables SAP customers to focus on identifying functionality that matters to their business strategy, and business performance, rather than simply thinking about an expensive SAP upgrade that dresses ECC mutton as S/4 lamb.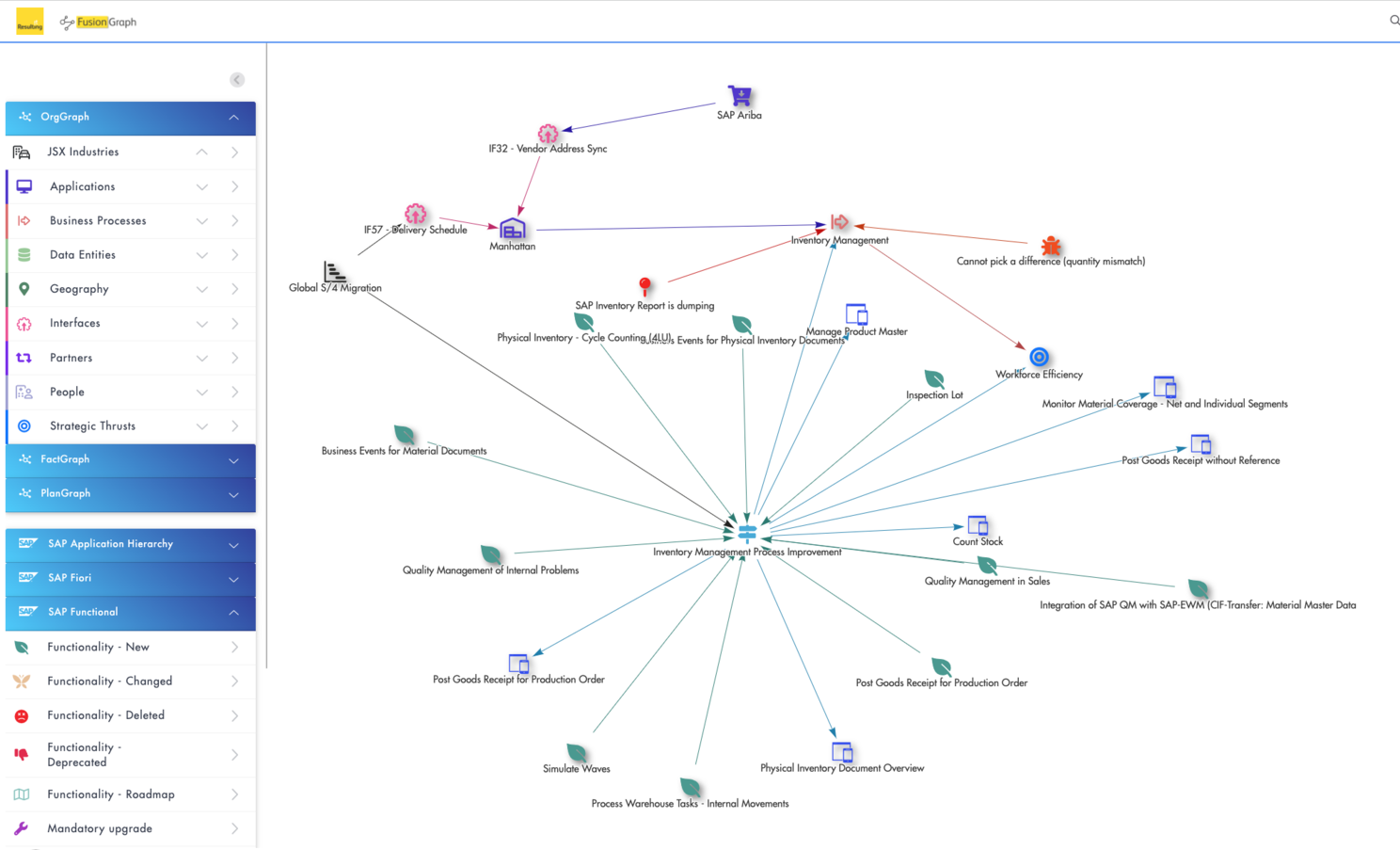 It does loads of other cool stuff too.
Like dynamically modelling technology landscapes (apps, interfaces, data, infrastructure) so that as-is and to-be transition states can be better understood as part of digital transformation.
Like converting static PowerPoint and Visio technology diagrams into dynamic, explorable visualisations that enable digital impact assessment.
Like capturing tacit knowledge such as workarounds, process inefficiencies and ways-of-working in a living, breathing, connected documentation format, rather than having knowledge locked away in people's heads.
Like capturing dependencies between business processes, applications, projects, issues, risks and - well, anything you can imagine.
But I don't have time to ram all of that into a quick ramble before I log off for Easter.
If you fancy a quick demo, give me or one of the Resulting team a nudge after the break.
I'm off for a vegan steak bake.
Stuart Browne
Stuart has held leadership roles in the SAP ecosystem over an 18 year period, spanning consultancy, delivery management, practice development, sales, marketing and analyst relations. With an eclectic mix of skills and one of the largest SAP networks in the UK, Stuart has established a formidable reputation that has enabled Resulting to guide SAP customers through complex challenges.