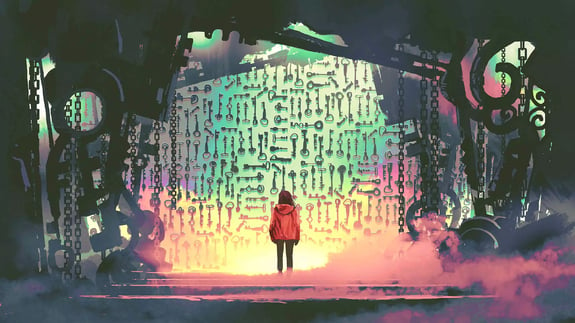 A realist's view
on ERP timings
and budgets
A robust plan based on our experience running hundreds of ERP change projects
Lots of ERP programmes go over time and budget within weeks – often because their project plans were, frankly, based on wishful thinking.
Manage the risk of cost explosion and project delay with an integrated migration/transformation plan that's based on experience and tried-and-tested methodologies - not inflated optimism.
Gary Paver
Senior Vice President Finance
"We now have greater visibility of our IT applications projects, as well as clarity on resource capacity and can make informed decisions on where to focus."

Sleeves rolled-up ERP delivery services
ERP programme planning
Independent, experienced based planning that results in greater certainty for your ERP programme.
An ERP implementation or ERP-led business transformation on any scale represents significant cost and risk.
Research shows that 50% of ERP implementations fail to deliver their business outcomes, and 70%+ are late and over budget.
But by focusing on what the successful half do well, you can put your ERP programme on the right footing.

The Resulting Pre-Flight Check assesses your ERP approach against 15 success levers and provides experience based, and research backed recommendations that will reduce cost, improve plan confidence, and reduce the chances of your ERP programme being in the wrong 50%.

You get a structured independent assessment of your ERP plans against Resulting's ERP Success model, followed by a series of deep-dive workshops into the high risk areas.
Although your ERP vendors and systems integrators will have their own methodology, experience shows that they tend to focus on technical implementation rather than the end-to-end aspects like data migration, business change, training and ongoing improvement.
Plus, if your ERP solution is composed of solutions from multiple suppliers, their individual ways-of-working are likely to be out of sync.
You need an ERP methodology that covers the end-to-end process from business case, through selection and beyond go-live.
But you also need to ensure that it covers the things that you need to do alongside your suppliers to ensure ERP success.

You get a an out-of-the-box ERP methodology that can be adopted or adapted to suit your needs. It comes with the pre-defined activities, deliverables, stage gates, roles and responsibilities needed to establish an ERP method that works for your unique circumstances.
Your people are experts in what you do. But they're not experts in planning and running complex ERP programmes.
And, for every month of over-run of your ERP plan you will incur additional cost, frustration and business disruption.
70% of ERP programmes run over their original plan.
Which means you need a robust, realistic plan that represents how reality is most likely to pan out.

You get a clear and understandable ERP project plan-on-a-page that enables you to define a realistic timescale for your ERP adoption. This will be supported by an initial RAAIDD register that outlines key Risks, Issues, Assumptions and Dependencies.

Once baselined, your high-level plan can be turned into more detailed plans, breaking down milestones, work stream deliverables and detailed dependencies.

Then, if you need someone to hold everyone's feet to the flames, a PMO service will ensure the plan becomes a reality.
On the face of it, the cost of an ERP system should be predictable...
Licenses, hosting services, and resources to design, build, test and train your people - followed by ongoing support and enhancement.
But businesses have a terrible track record in accurately defining and controlling the cost of implementation.
A robust plan, clear methodology and honest assessment of your approach are important ingredients to accurate commercials.
But an upfront, honest appraisal of the detailed costs, contingencies and sensitivities will ensure a realistic budget and reduce surprises down the line.

You get expertise within your team to create a realistic commercial model, and stress tested assumptions that can be validated during selection, contracting and ongoing programme governance.

Critical RAAIDD log safety checks
7 ways to avoid transformation disaster
When you're piloting a complex ERP transformation, you need a device that keeps you on course – something that will help you traverse through the storms and warn you when there's trouble ahead.
At Resulting, we call this RAAIDD-R. And this guide offers up 7 critical safety checks for people involved in piloting an ERP transformation.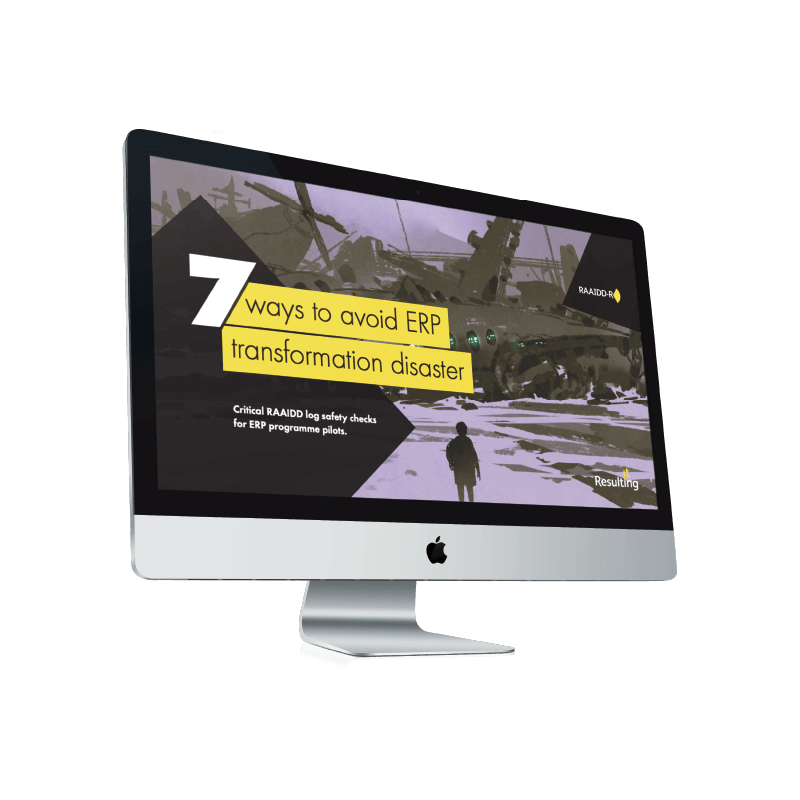 20+ years of expertise baked in
ERP Tools & Accelerators
Resulting ERP advisory and delivery services deliver fast results and exceptional value for money. No nonsense independent consultancy.
Ready to talk..?
When you're ready to chat through your ERP challenges, get in touch.
Resultology Blog
Snack on ERP thought leadership...
When you hire advisors, you want them to have experience. But you probably also want people who can help shape and provoke your thoughts. The Resulting team take great pride in thinking, distilling their thoughts and putting them down on paper...
Companies we partner with to deliver SAP success