SAP RISE – How high will it take you?
OK, so where were you on 27th January this year?
Sure, I know you were WFH and slaving away at your keyboard. But were you tuned in on-line to SAP's latest big marketing splash: SAP RISE? If not, this article is designed to bring you right up to date and give you the bottom line.
Given what we know now, SAP RISE appears to be a clever bundling of a large range of SAP products and services to help SAP customers "rise" to the cloud. SAP RISE offers a single contract to all customers to go cloud and at the same time to accelerate their digital transformation journey, to become what SAP has always called an Intelligent Enterprise. SAP positions RISE as "Business Transformation-as-a-Service". Sounds dead easy, right?
So, the bottom line is that RISE is a cloud wars strategy to try to regain control of its installed base. SAP is to be congratulated for another strong financial performance in 2020 and its cloud revenues and backlog showed strong growth in an incredibly difficult year. But SAP is still behind in delivering the long-awaited full integration of its SaaS cloud solutions. Furthermore, adoption of its cloud ERP SaaS solution, S/4HANA Cloud, has been very sluggish. RISE is geared to tempt installed base and new customers alike to move to S/4HANA Cloud.
So what's included in RISE?
What's in the SAP RISE box?
Actually, the simple answer is "a lot", so let's take a look at the six layers.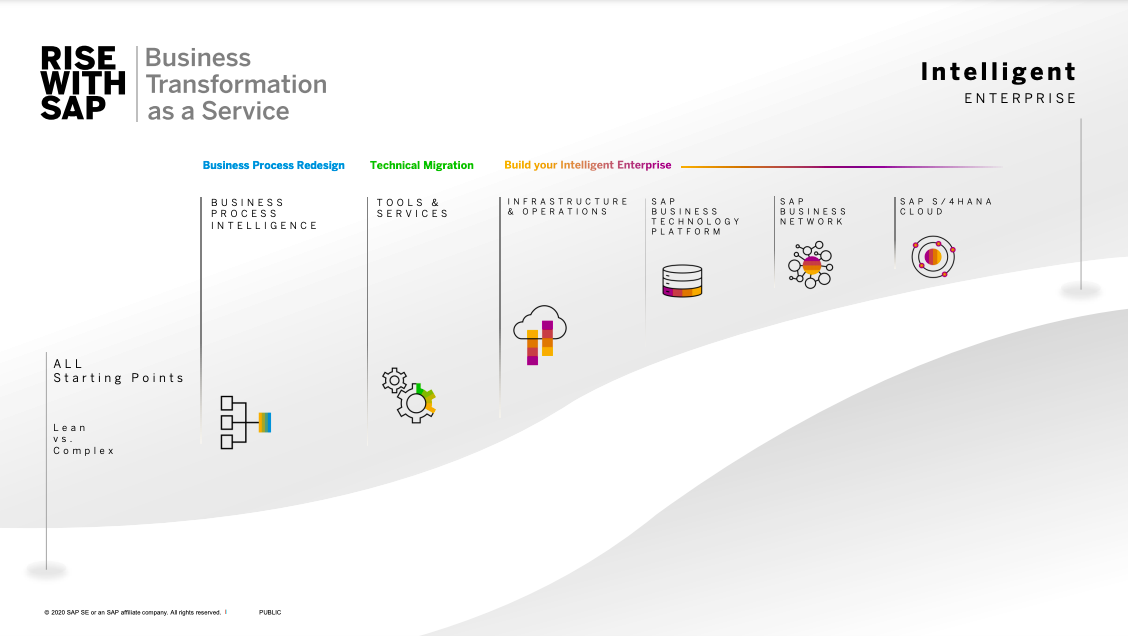 Source SAP
1. Business Process Intelligence in RISE with SAP
What if you could model all of your business processes and measure them with the right KPIs? You could then revise your Business Strategy and ERP Strategy, or perform real business process improvement.
Sounds like the right place to start, but some upcoming Resulting research that I've had early sight of shows that 80% of SAP ERP customers don't have an up to date list of their business processes. And if you want to be first in line to read that research drop me an email so I can add you to the release day mailing list.
Anyway, SAP aims to help here and have recently acquired the leading business process management vendor, Signavio, in Germany.
2. RISE with SAP Tools & Services.
SAP already has a set of tools and services to help customers migrate from ECC to S/4HANA on premise/any premise (S/4HANA for simplicity) and S/4HANA Cloud, called the MOVE program.
This has been enhanced to include credits for the on-line SAP Learning Hub. Also included here are 3 optional consulting service packages, called RUN, OPTIMIZE and INNOVATE, which are all geared to S/4HANA Cloud.
The Resulting FusionGraph visualization tool can greatly help customers in this migration, by simulating roadmaps and helping to build business cases.
If you haven't seen it yet you can book a demo here.
3. Cloud Infrastructure and Operations for RISE with SAP
The RISE contract offers a migration from on premise ECC to the cloud. This can be ECC to S/4HANA Cloud on either a private cloud (e.g. IBM) or a hyperscaler public cloud (AWS, Microsoft Azure, Google Cloud, etc.). SAP claims up to a 20% TCO savings over 5 years for this migration.
SAP intends that existing S/4HANA customers should further migrate to S/4HANA Cloud, which I will discuss below. Another surprising option is a short-term migration from ECC on premise to ECC on the HANA database, on a hyperscaler.
4. RISE Business Technology Platform
SAP's elusive technology strategy has been so confusing over the years! Let me sum up its evolution for you here in one straightforward timeline: Basis –> NetWeaver –> Cloud Platform –> Business Technology Platform (BTP)
The RISE contract includes credits for customers to use the powerful BTP to integrate SAP and non-SAP solutions, as well as to extend them. BTP also includes newer technologies for analytics, AI/ML and process automation, etc.
5. Business Network Starter Pack bundled with RISE
This allows you to create digital connections to your trading partners, via the SAP Business Network and allows you to start to collaborate with suppliers, shippers and carriers. It also allows you to share asset usage information.
6. S/4HANA Cloud RISE offer
The whole focus of RISE is to move/migrate more installed base SAP ECC customers onto S/4HANA Cloud, which is SAP's strategic ERP SaaS offering - where SAP directly runs and updates your ERP processes for you. Subject to sizing constraints, there are extra services to remove customisations, re-implement interfaces and minimize business downtime when migrating from ECC.
Are you "Big ERP" or "Small ERP"?
I know what you're thinking now: "How will SAP RISE help me"?
If you are an SAP installed base customer your options depend greatly on how much ERP you currently use and need.
If like many of SAP's 36,000+ ERP customers you run your order fulfilment, manufacturing and logistics business processes within ERP, you are what I call a "Big ERP" user. Big ERP means that your ERP systems(s) form critical systems of record. If, however, you just run financials and procurement, I would term you "Small ERP", meaning less critical back office systems.
Big ERP users often have hundreds of special interfaces, huge databases and have built too many customisations. Big ERP users typically need to control their individual application configuration, plus its change control processes and timing. In general, Big ERP users currently prefer to migrate to S/4HANA on premise/any premise, but this can be hosted on private or public cloud. However, in the January 27th launch of RISE, Siemens, one of SAP's oldest ERP customers with hundreds of big SAP systems, declared their intention to migrate to S/4HANA Cloud. So we need to watch this space.
Small ERP users, plus net new SAP customers, find it much easier to migrate to S/4HANA Cloud, as they don't have the constraints faced by Big ERP users.
SAP claims there are currently about 16,000 licensed S/4HANA customers, with 8,700 of these actually in live operation. It is not known how many of these are S/4HANA Cloud, but I would estimate less than 20% of the 8,700.
"Hey, hey, you, you, get onto my cloud"
Heard that before? Oh yes you have! To date thousands of SAP ERP customers have already started their journey to the cloud, but in a careful, stepwise approach. Most of these run either SAP ECC or S/4HANA on cloud Infrastructure-as-a-Service (IaaS). They include Big ERP and Small ERP customers and most of them have achieved substantial operational cost savings already.
The majority of these IaaS customers are on the AWS hyperscaler, followed by Microsoft Azure, then Google Cloud. In the January 27th launch SAP announced a closer partnership with Microsoft, including a planned integration of Microsoft Teams collaboration tools.
As many SAP IaaS customers have found, each of the major hyperscaler vendors also offer their own easy to consume, modern, development and integration tools. These can be used to build smart systems of differentiation to extend the SAP ERP systems, including AI, ML, RPA and IoT technologies. SAP needs to control its installed base of customers by "persuading" them to use SAP technologies (like BTP), or risk losing control of them.
Would you like Digital Transformation with your order, madam?
Today, many enterprises of all sizes are on a digital transformation journey to streamline their business models and generate new revenues. To do this SAP customers must build on top of their successful SAP systems of record and introduce these differentiating new technologies. SAP's RISE initiative can greatly help them, but if only life were that simple.
To be successful with any digital transformation all SAP customers will need business-driven IT organisations, a highly effective SAP COE, strong people management and the right culture, with a genuine willingness to change. That's really the hard bit, the technology is the easier part. So, I was really disappointed to see no real mention of last year's SAP Customer Success initiative in the RISE launch. There are many SAP customers with a close relationship with SAP who really trust SAP. These organisations will undoubtedly see RISE as a big step forward in easing any potential journey to become that Intelligent Enterprise.
There are equally many SAP customers at the other end of the spectrum who see SAP purely as their current ERP vendor. But even these organisations may find RISE to be a cost-effective way to do business with SAP – the devil will, as ever, be in the detail…
Dr Derek Prior spent 19 years as an analyst specializing in SAP at Gartner and AMR Research, advising organizations all around the world on SAP strategy and best practices.

The RISE and fall of SAP's relevance
In this research project we explored what RISE means in reality to the SAP community. Do they understand it? Will they adopt it? Find out here.
Plus, get takeaways you can implement today that will help you prepare your business for transformation with or without RISE.