ERP and SAP S/4HANA roadmapping
Defining a structured approach to digital transformation that will deliver what your business needs from ERP.
ERP and SAP S/4HANA Roadmapping
How to build your ERP roadmap
If you're thinking about a major ERP programme - like an S/4HANA Migration or moving to composable, cloud based ERP - you need an ERP roadmap.
But what is an ERP roadmap and how do you get one?
In this video series you'll learn how to create a roadmap that will deliver what your business needs from ERP, and how to communicate that roadmap clearly and effectively to win business buy-in.
UNDERSTANDING YOUR BUSINESS STRATEGY
AND BUSINESS PROCESSES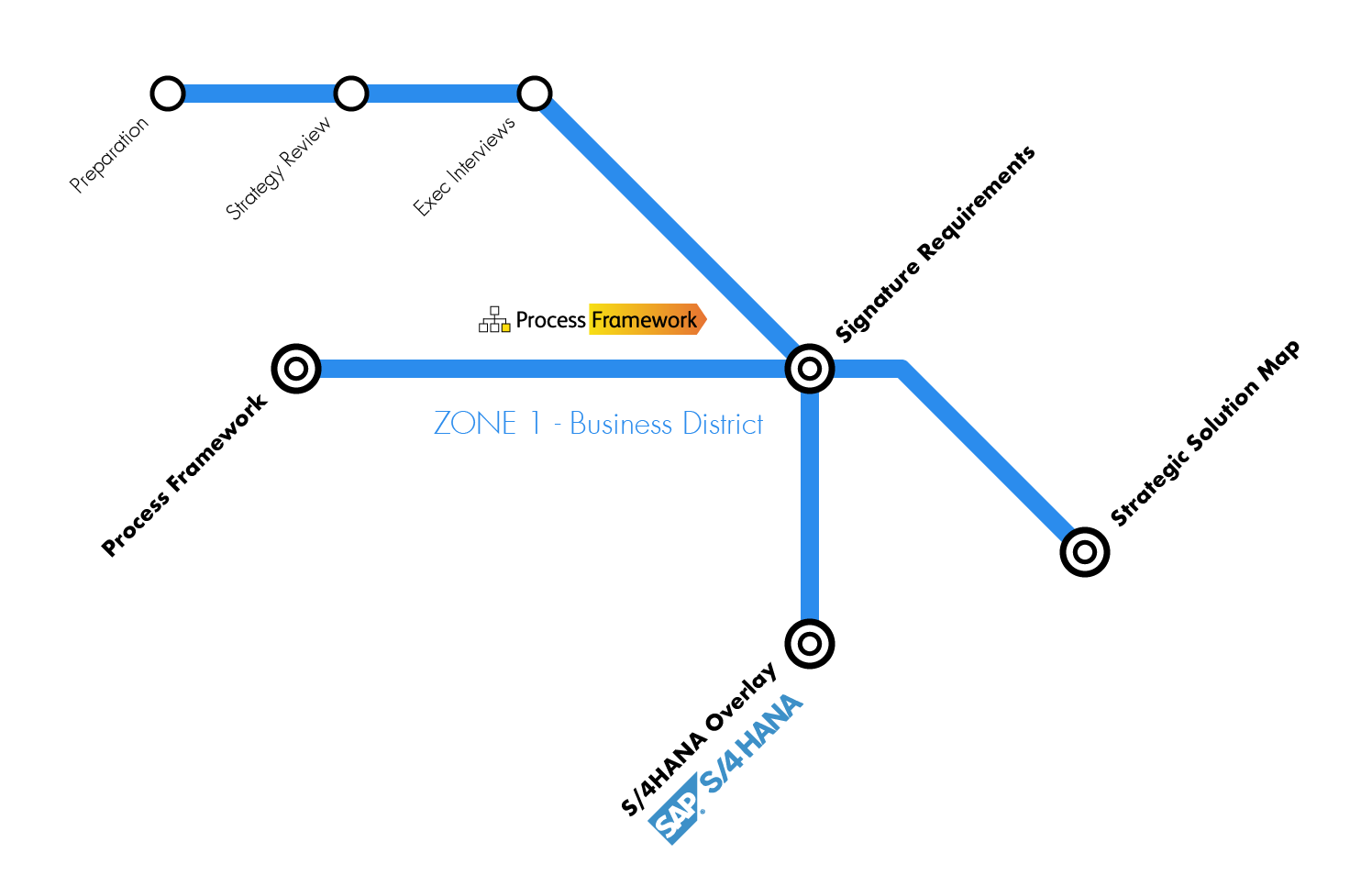 When you're thinking about an ERP programme, before you start anything technical you need to understand what your business people need from ERP.
Understanding the business strategy, your business processes, and what your business people like or don't like about your current system is vital before you can design a future ERP system.
Follow these steps and you'll get the business knowledge you'll need to transform your organisation through ERP.
1. Preparation
When you start on your ERP roadmap the first thing you need to do is agree on an approach.
This will include things like your timeline, scope, team, and stakeholders.
You'll also need to agree on comms messages around the engagement to ensure that senior stakeholders are onboard.
This is a good time to prepare a baseline Process Framework which will feed into the later stages of the project.
You'll need access to any background information, for example strategy documents, and you'll need to schedule meetings for the Exec Interviews — but we'll get to those in a minute.
2. Strategy Review
Your business strategy - what your business wants to achieve - is fundamental to your ERP roadmap. It's basically the reason you're here.
Different organizations will document their business strategy in different ways.
Some will publish a cohesive strategy document every year. Others will have snippets of their strategy dotted about as part of department specific goals and plans.

It's up to you to find as much of that information as you can and piece it together.
You can then bolster this with additional research on your industry to fill blind spots.
The output of this exercise will be a series of Strategic Thrusts that provide additional context to the roadmap activity,
3. Executive Interviews
The exec interviews are a really important part of this roadmapping process as these people have decades of knowledge under their belt. They can provide some incredibly valuable insight.
You undertake Executive interviews to understand what your business leaders will need from future ERP based on their strategic plans.
The findings from these sessions will provide a justification for your approach to roadmapping. They shift focus away from the day-to-day operational pains to key future needs of the business.
4. Business Process Framework
A clear and agreed process framework is fundamental to any technology blueprint.
It ensures your digital transformation is aligned to what the business does, and shifts the focus away from technical solutions and jargon.
With your processes mapped out it's easier to see a narrative of the current state of the business and make decisions about how to augment the processes.
It's critical that the business process framework is in a language that the business buys into - it can't just be the way that IT describes the business process scope.
5. Signature Requirements
Once you have your Business Process Framework you need to interpret it to understand what really matters to your business.
To do this, you should start by categorizing processes into two main groups - commodity processes and competitive advantage processes.
Commodity processes are those things that all businesses just have to do, things like posting journals or paying tax.
Competitive advantage processes are the things that make you stand out against your competition and impact your top line and your bottom line.
These are the processes that make up your Signature Business Processes and inform the basis of your ERP roadmap.
DEFINING YOUR ERP SYSTEM REQUIREMENTS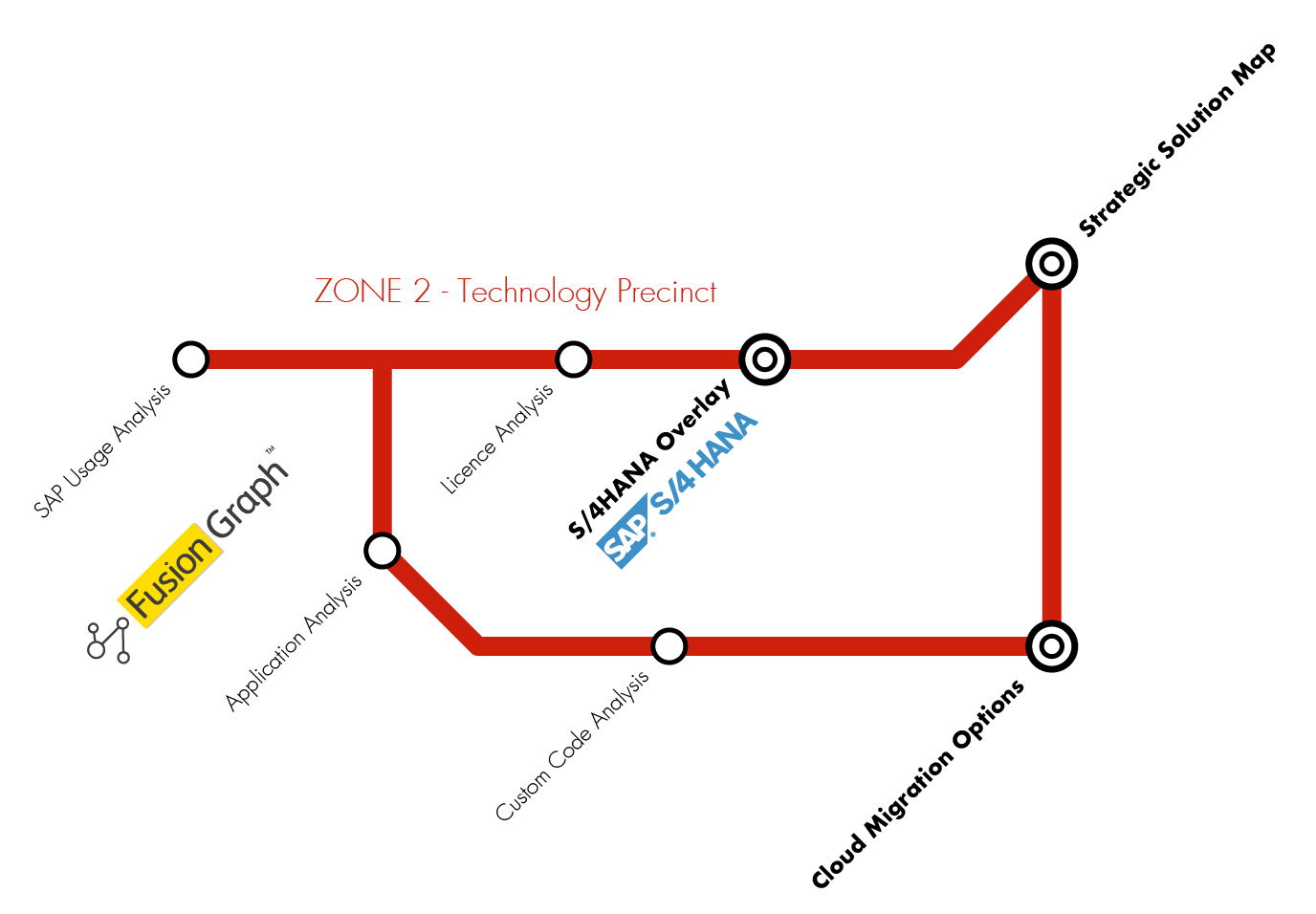 Now you understand what your business people need from an ERP system, it's time to start working out how you're going to deliver it.
But before you start asking "where next?", you need to describe where you are now.
This part of the process is all about understanding what you have today, how you use it, and what might be possible in a future ERP system.
6. Application Analysis
Application analysis is about understanding the systems you have in place today.
Application Analysis is important as it helps you understand which parts of the system are linked and how they will be affected by migrating to S/4 or a future system.
Creating an inventory of existing applications, interfaces and data creates the clarity needed to properly plan transformation.
7. Strategic Solution Map
A strategic solution map is all about defining the kind of systems you will need to deliver your business strategy.
Based on your application analysis and your signature requirements, you can propose a high level future solution landscape.
For SAP customers looking to move to S/4HANA you can also look at your existing SAP usage and compare this to available and depreciated functionality in S/4.
Crucially, the solution Map enables you to plan migration and future sourcing and decommissioning initiatives.
8. Custom Code Analysis
Whether your next step is a cloud move, Unicode conversion, HANA migration, S/4HANA conversion, Microservices refactoring, or any combination of these, you need to understand what custom code you have and if it's compatible with your future systems.
Any custom code needs to be changed to work in S/4HANA, But luckily it's possible to automate your custom code analysis and remediation.
9. License Analysis
If you're an SAP customer, licenses will be the most expensive part of your SAP investment after programme delivery.
Running a license analysis and taking the right approach to licensing is critical to getting the outcome you want from your migration programme and your long term SAP investment.
10. SAP Usage Analysis
If you're an SAP customer you'll want to understand exactly how you're using your current system before you begin your migration.
You can do this by importing your current SAP usage profile (ST03 Logs) into FusionGraph to map out your current SAP usage and understand your custom SAP transactions and programs.
This process can be conducted for multiple SAP ECC systems if required.
Running an SAP usage analysis makes it easier to see the difference when the S/4 functional overlay is implemented
11. S/4HANA Functional Overlay
Once you've imported your ST03n into FusionGraph you can begin your S/4HANA functional overlay - a process which is vital for anyone thinking about migrating to S/4.
FusionGraph automatically identifies relevant S/4 functionality to provide a basis for producing an accelerated business case - including new Features, Fiori Apps, and removed functionality.
Focusing on your Signature Business Processes, you can workshop key areas to identify new S/4 functionality and build a high-level Roadmap for S/4.
This exploration process will identify specific S/4 features that will form the basis of your S/4 business case.
CREATING YOUR PLAN AND BUSINESS CASE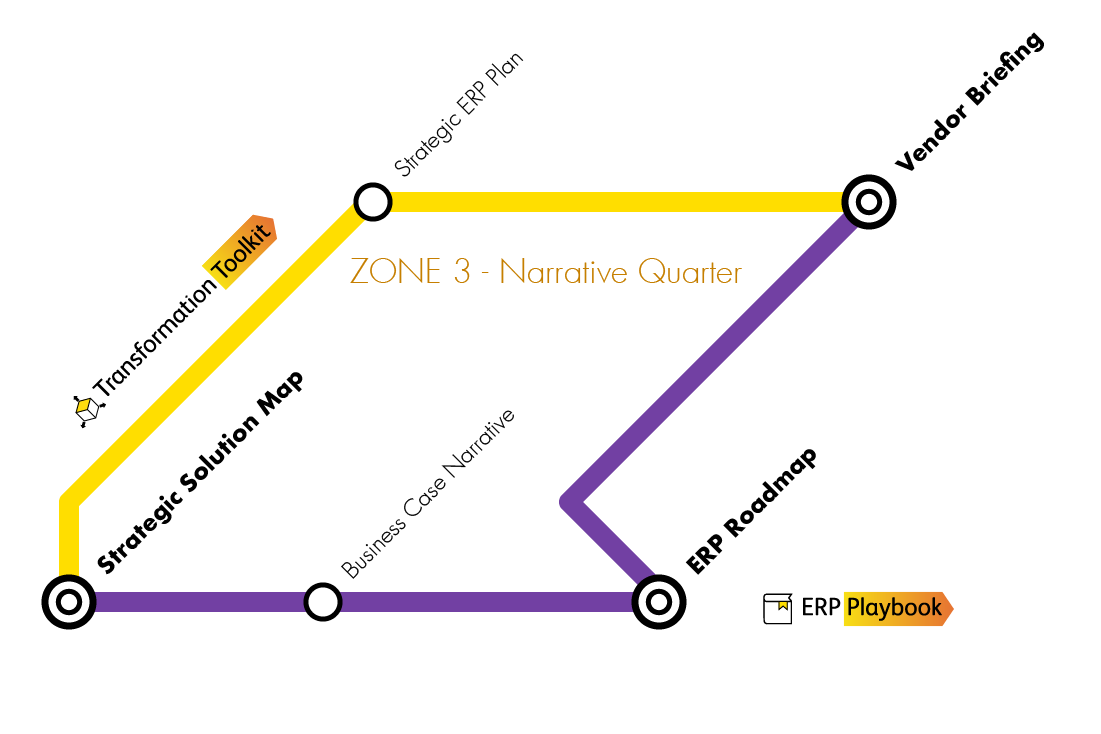 With your strategic solution map in hand, you know where you want to take your ERP system.
Now it's time to communicate that plan back to your business people and win that all important business buy in.
Your Strategic ERP Plan and your Business Case Narrative provide the how and the why of your ERP Roadmap.
Here's how you make them.
12. Strategic ERP plan
Your strategic ERP plan should be a plan on a page that outlines the timeline and key dependencies to deliver your ERP roadmap. This will be a simple level 1 / 2 plan aimed at informing the overall process of selection (packages, systems integrators, cloud platforms) and implementation.
It will also enable your team to model commercials as part of your internal benefits case justification.
It acts as a halfway point between the business strategy and actually delivering the programme.
13. Business Case Narrative
Your Business Case Narrative is where you fold all of the inputs and work you've done so far into a compelling narrative that is aimed at educating senior business stakeholders on why your digital transformation matters.
The narrative needs to be visual and understandable, and grounded in business language. You achieve this by referencing your strategy, executive soundbites, and your business process framework.
If you're an SAP customer it will also link specific S/4HANA functionality to your signature business requirements to demonstrate a business-aligned upside to moving to S/4.
CHOOSING YOUR ERP DELIVERY PARTNERS
AND MIGRATION OPTIONS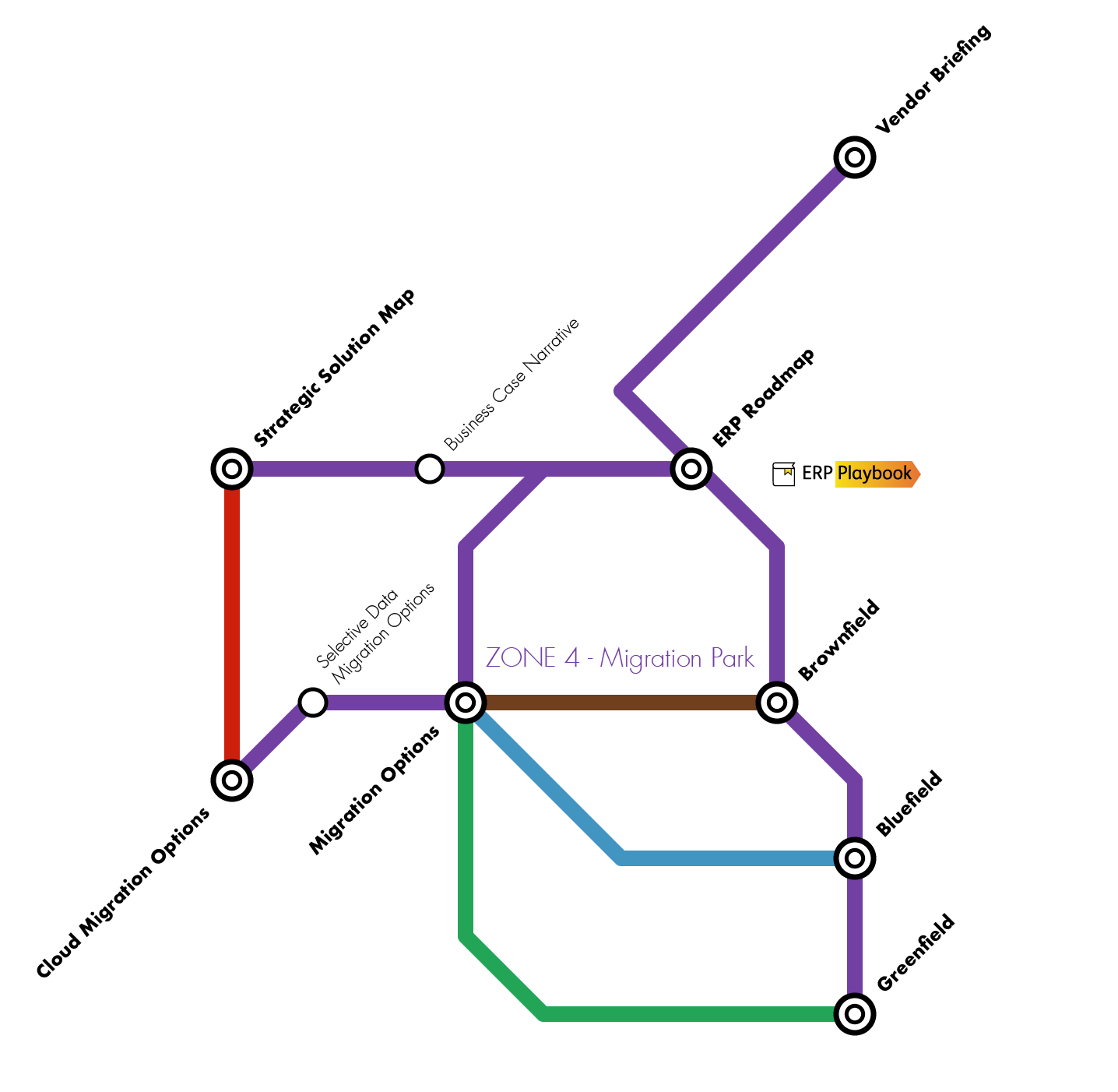 The last step on your ERP roadmap is deciding how you will actually make the change from your current system to your future system. This will include choosing your migration options.
If you're an SAP customer that means making the big Brownfield / Bluefield / Greenfield decision - and that's before you even start worrying about cloud.
And finally, you'll learn how to turn your roadmap into a high value ERP playbook that you can play back to the business and use when it comes to choosing your suppliers.
14. Migration Options
Based on the overall technical and functional analysis you can propose migration approach options based on the phasing of functional requirements.
It may be necessary to engage additional partners as input to this step. This could include hyperscalers, software vendors, data migration and archiving experts, and automated code remediation solution providers.
The output from this phase will be a proposed approach to migration in the form of principles and solutions to evaluate. This will include a recommendation on whether to follow a Green, Brown, or Bluefield S/4 migration approach.
15. Selective Data Analysis
One of the biggest factors affecting how you'll choose to migrate is what data you need to take across with you.
If you opt for a bluefield migration you'll have to start with selective data analysis.
Fortunately, there are a number of tools that can officially perform selective data 'Bluefield' migration.
16. Cloud Migration Options
Most customers are investigating a move to Cloud.
It may make sense to move ECC to the cloud first before migrating to S/4 – as the additional capacity of cloud storage and compute may simplify the migration and reduce downtime.
But remember moving your ERP into the cloud isn't some silver bullet or inherently the best option.
It's just another option that is available to you that you can consider as part of your migration roadmap.
17. ERP Playbook
The deliverables from your programme can be assembled into your ERP roadmap.
We like to deliver it in the form of an ERP Playbook that describes the proposed journey to all stakeholders and partners.
Your playbook isn't a hard and fast set of rules, but it shines a light on the possibilities for your ERP project.
The ERP playbook makes the project more appealing to stakeholders and partners by articulating the positive impact on the business from a business process perspective.
And the various assets created during the process will contribute to the final ERP roadmap.
18. Partner Briefing and Supplier Selection
Once you have clarity on your strategic ERP priorities, you're ready to build the A-Team for your project.
We suggest you look for impartial advice when it comes to selecting the right technology and packages. That means looking for an advisor that doesn't sell ERP licenses themself.
This advisor can also help with vendor briefing and selection, advising on cloud, and license negotiation. Where necessary, they'll even help you face off to your SI (which keeps them honest).
But ultimately you will need to choose a vendor to build the system.
You should consider creating a briefing package to explain what you're trying to achieve with ERP and what you want your partners to do. This can support package selection (one or more ERPs) and Systems Integrator selection as part of an RFP process.
START BUILDING YOUR ERP ROADMAP
Download the Resulting Roadmapping Model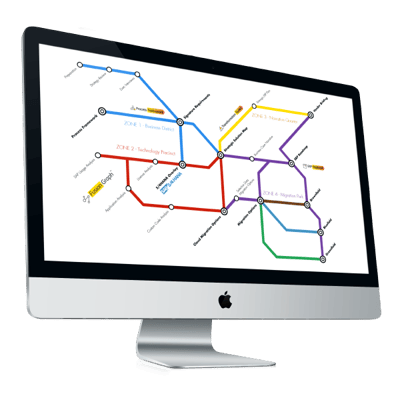 Download your copy of this proven ERP roadmapping approach to begin your journey to digital transformation.