Whether your Centre of Excellence (CoE) is ready for an SAP S/4HANA implementation depends on several factors. Here are some key considerations to determine if your CoE is prepared for S/4.
1. Expertise within SAP S/4HANA CoEs
A mistake many organizations make when building an SAP CoE is treating it as a support function, rather than a driver of business value through SAP. This means that many CoEs are understaffed or underskilled as their focus has been primarily technical around support.

When you move to S/4HANA, this requirement for expertise within your CoE will become even greater, as new ways of working brought about by S/4 will require you to have an even greater internal SAP capability.

Some key skills you will need in your CoE to be ready for S/4HANA are technical skills, functional knowledge, solution architecture and a general level of experience with the platform.

If you don't have this capability within your CoE you will struggle in program delivery, and to deliver value after you go live with S/4HANA.

You should begin by doing an audit of your existing capability to understand where you have gaps, and then make the necessary hires to fill these gaps, or find a partner who can augment your existing team.
2. Governance within the CoE on S/4HANA
To be ready for S/4HANA your CoE should have a strong governance structure in place including roles, responsibilities and decision-making processes to oversee future S/4HANA projects.

Remember - go-live is just the beginning of your S/4 journey. You will need to continually change, support and improve the system for many years into the future.

And, once your implementation program is over, many of the skilled program managers you've been relying on will leave to work on their next S/4 implementation project.
You need to think ahead and ensure you have the team in place that will take over and manage all your change and improvement projects once your SI leaves.

You need to develop a governance structure with clear lines of responsibility, processes and oversight so you are ready when that time comes.
3. Resources in your S/4HANA CoE
Your CoE's job is to deliver value from your expensive S/4HANA investment. It's not going to be able to do that if it is chronically understaffed and under-resourced.

Give your CoE the best chance of success by equipping it with the right personnel, budget and infrastructure.

Making sure your CoE is well funded and staffed will be beneficial during your S/4 implementation, and is absolutely essential after go-live if you want the kind of strong internal S/4 capability that is going to get value from SAP.
4. Training and skill development for S/4
A key role of your CoE during your S/4 implementation is ensuring that its existing team members are up-to-date with S/4 new features.

Yes, this is still SAP, but it's a new world of SAP and you need to make sure your CoE is prepared to deal with it.

By involving the business and the CoE with the S/4 migration from day one, you can give your CoE team early exposure to the new system, and their knowledge will continue to increase as the program moves along.

You can also look into specific training and change management for the CoE alongside the wider training program you will be running across the business.

Making sure your CoE understands the difference between SAP and S/4 will be key to their ability to affect change, so investing in training and skill development early on is important.
5. Aligning your CoE with business goals
As part of your roadmap to S/4HANA, you should have developed a strong business case for change based on your business strategy.

Similarly, your CoE needs to be aligned with the business goals to make sure S/4 delivers on the business case and continues to support the evolving and changing needs of the business over time.

The big mistake people make with the CoE is thinking its primary role is support, with a significant technical focus.

In reality, a strong CoE doesn't just run IT, it also runs the business, and seeks to drive improvement in the business.

This is where you see real value being delivered.

Your CoE isn't just about what's happening here and now, it's about the future of the organization, so make sure it's aligned with the business strategy.
6. S/4 CoE and Change Management
Our research shows that a strong adoption focus is the #1 factor in determining SAP program success.

It's vital that you focus on adoption from day one of your S/4 program - but this often gets overlooked.

Sometimes it isn't clear who is responsible for change management - with many S/4 customers mistakenly assuming this will be covered within the scope of the SI.

But system adoption is always your responsibility - even if certain aspects of adoption e.g. training might be supported by a delivery partner.

Adoption is your responsibility because it's about your people and how they use your system - so the buck stops with you.

The CoE is the best-placed team within your organization to take responsibility for adoption and change management - and it's something you should really prioritize.

You can find out more about how to run a successful changement project in our 7 Sins of SAP Adoption guide.
7. Integration and Data Strategy
One of the challenges facing all ERP customers - not just SAP customers - is integration. ERP is becoming increasingly composable, with many organizations choosing to run a smaller ERP core, and then add on specific products to deliver business functionality.

SAP have even built this approach into their business model, with the majority of future S/4 customers having to consider products like SuccessFactors or Ariba alongside their core system.

So, if you're preparing your CoE for S/4 migration you need to be ready to manage integrations whether to other SAP products or to 3rd party software.

While this might feel unnecessary if you're used to a single all-consuming ECC system, a smaller core surrounded by discrete business systems can have its benefits.

It makes it easier to give individual departments the systems they need and control over those systems, and it keeps the various components within your wider tech landscape small and nimble enough to promote agile working and continuous improvement.

Integration is going to be a part of your future S/4 system whether you like it or not, so make sure that your CoE is prepared to manage it.
8. Testing and quality assurance
Your S/4 system will need rigorous testing before going live to make sure it works effectively and safely.

If you're rolling S/4 out across multiple sites or geographies then that effort will need repeating every time.

And, after go-live, all the changes and improvements you make in the future will need testing too.

That's a lot of testing just coming from your own business. And, it's not just your changes that will need testing.

Your future S/4 core will probably be surrounded by smaller software products as part of a wider, composable ERP system.

These systems are likely to be SaaS products that require a completely different approach to testing than you might be used to in the old on-prem world.

Changes and updates will simply be pushed out to you, and you must be ready to test and accept those changes.

Your CoE needs the testing skills and test automation tools to be agile when it comes to testing, and be ready to accept change from SaaS products and your own improvement programs following your S/4 go-live.

You can find out more about what an agile, modern approach to test automation looks like here.
9. Vendor and Partner Relationships
Vendor management is an important skill to have on your S/4 program - but it can be difficult if you don't have a high degree of technical or functional knowledge about your own system.

If you engage an SI without a strong internal SAP capability, you might end up with a feeling of having S/4 "done to you" and not quite getting the outcome you want.

And this isn't entirely the SIs fault - it's your job to understand how your business runs and what you want from your future S/4 system and delivery partner.

Start developing skills within your CoE today so that you're equipped to face off with your SI when it comes to making the big decisions about your S/4 move.

And, if you've not got access to those skills you can always engage an independent consultancy like Resulting IT to help manage your vendors.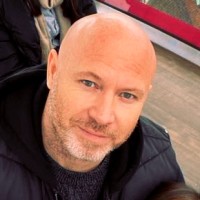 Chris Grady
Chris is a Information technology executive with 25 years of hands-on experience leading people, projects and teams; Business Development, orchestrating the delivery and transformation of services and overseeing technology programmes​ across a wide range of Industries in EMEA, Asia & the USA.