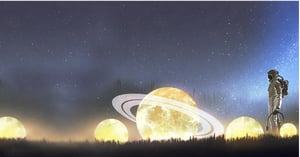 WHY WE CREATED ERP FUNDAMENTALS
We want to help energise the next generation of ERP specialists against a backdrop of an ageing workforce and war for digital talent.
COULD ERP BE PART OF YOUR FUTURE?
Back in 2019 we ran one of the biggest ever surveys into the global SAP skills market.
We asked almost 400 members of the SAP & ERP (Enterprise Resource Planning) community their thoughts on everything from which technologies they work with to when they plan to retire.
The results were so bad people were calling it an ERP Skills apocalypse…
We saw the effects of outsourcing in the early 2000s lead to a dwindling SAP skills base today…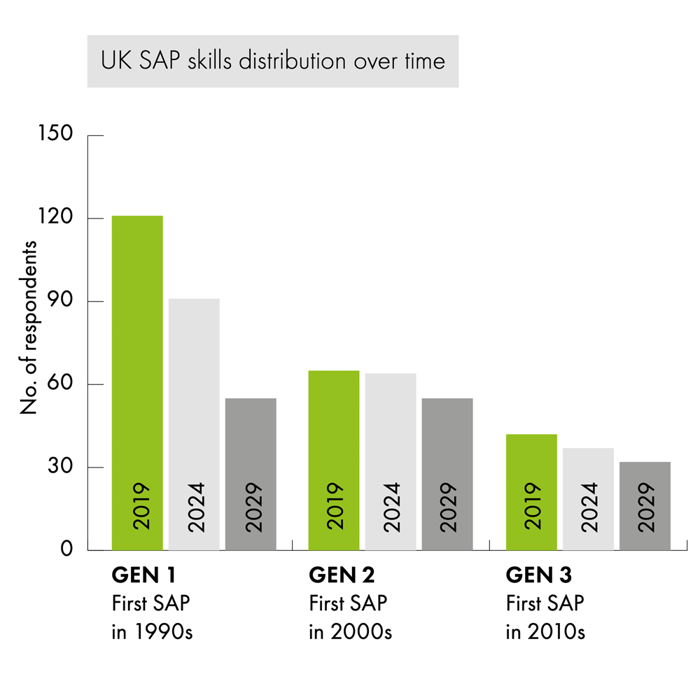 54% of the most experienced respondents told us they plan to retire by 2029…
And, we saw the majority of the SAP ecosystem expecting to get their S/4HANA training on the job - with a hefty increase to their salary once they'd finished their first project.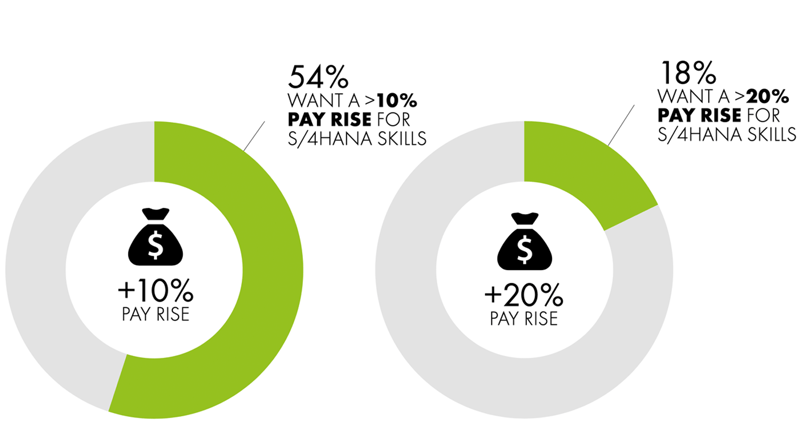 For businesses planning a S/4 migration before the 2027 end of support deadline for ECC it spelled nothing but doom and gloom - and for the rest of the ERP community it gave a scary glimpse of the future to come.
THE BEGINNING OF THE END...
OR THE END OF THE BEGINNING FOR ERP?
Despite the scary findings of the 2019 survey, we weren't about to let a small number of Systems Integrators and ERP consultants hold the world to ransom for ERP skills.
At Resulting we've always been about self-sufficiency in IT - so we wanted to help companies running ERP to become self-sufficient at finding and building ERP skills within their own organization.
That's where "ERP fundamentals" comes in. This is a 100% free guide that will upskill your existing business people about how ERP works so they can support your next major ERP project.
After all, ERP is all about running business processes - and who knows your business processes better than the people who use them day in day out.
By sharing ERP fundamentals within your business, you create the ERP skills you need within the business which reduces the cost of your project, keeps you self-sufficient, and increases the knowledge in your business. Plus - it sets your business side people on their way to a new and highly lucrative career in ERP.
So, if you're a CIO or Project Manager who needs skilled people with a knowledge of your business to join your next ERP project, you've just found your answer. And, if you're a business person who's been asked to help out on an ERP project but you aren't sure what you're getting into - don't worry - you're in safe hands.
According to Allied Market Research, the global ERP market is estimated to hit $86.30 billion by 2027- It's the biggest industry that a lot of Gen z have never heard of.
Because of this knowledge gap and an ageing ERP workforce we created this learning tool to educate people on the core fundamentals of ERP.
Click the button below to get started on the next stage in your career as the resident ERP expert on your team.
Ready?
LET'S GET STARTED WITH ERP FUNDAMENTALS
If you're new here we recommend starting at the beginning with introduction to ERP.
Or, if you're returning to ERP fundamentals, use the links below to jump to where you need to be.