How will you get value from SAP ECC?
If you're not ready for S/4HANA yet, what's
your 5-year SAP plan ?
With an extended maintenance window
and the economic upheaval of COVID-19
to contend with, 2027 now feels like
a different problem altogether if you run SAP.
Is a move to S/4HANA the only way to make up for lost benefits ?
For many, moving to S/4HANA is a once in a generation opportunity to drive business transformation.
It's a chance to make up for the missed opportunities of previous SAP programmes, where new technology promised business transformation.
For most, transformation failed to materialise.
Mostly, this was down to a failure to simplify and standardise processes - over complexity of SAP led to poor adoption.
And, benefits can't be delivered with poor adoption - so corporations flushed ten's of millions of dollars down the toilet along with 50 pages of over-optimistic SAP business case.
But, now you have the chance to start over.
Well, maybe... If that's really what you want right now?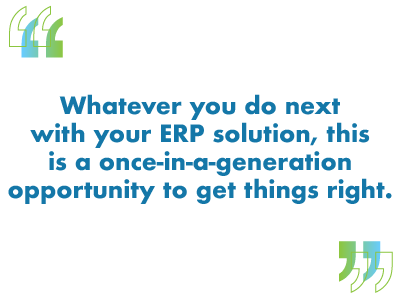 Is S/4 the answer, today?
SAP has the answer - the chance to embrace S/4 and the Intelligent Enterprise.
The narrative - digital disruption is here and now. Those who embrace it can achieve significant competitive advantage - Big data, Predictive Analytics, IoT, Automation, Machine Learning.
All great buzz words - but what do they really mean from a practical business perspective?
If you don't jump, you'll be behind the curve. It's what marketeers call FOMO.
When should you migrate to S/4? How will you migrate to S/4? How do you build a business case for S/4? Is S/4 actually the right answer to deliver your business strategy?
Stop for a second. Take a breath.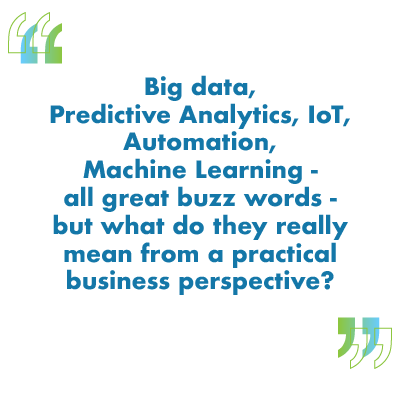 Our S/4HANA Survey Says...
In our 2019 SAP S/4HANA research, the 2025 end of support deadline for ECCC was stated as the main reason for considering a move to S/4 with 69% of SAP customers ranked it as an important reason to move to S/4. Within that group 42% ranked it as a very important
This compares with only 19% placing a high importance on the benefits of faster SAP solution.
58% of SAP customers felt that the speed improvement afforded by S/4 was not a compelling reason to migrate.
And, In terms of new S/4 functionality aligning with business strategy, the group was divided in a Brexit-esque proportion of 52% vs. 48%.
But the key question here is this - is your business really aware of the real-world benefits of S/4?
The adoption rate of S/4 among ECC customers is telling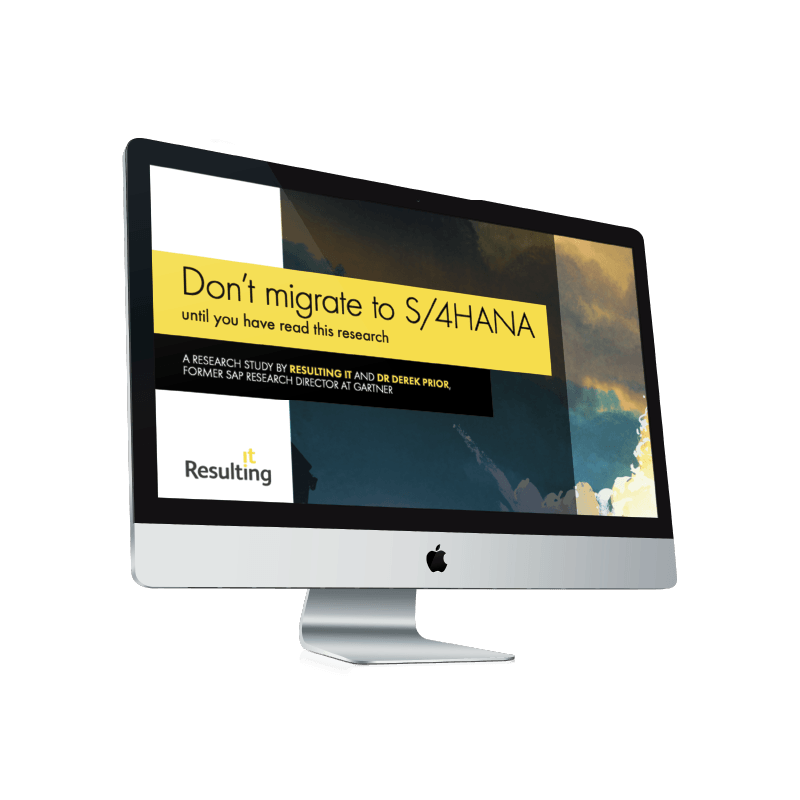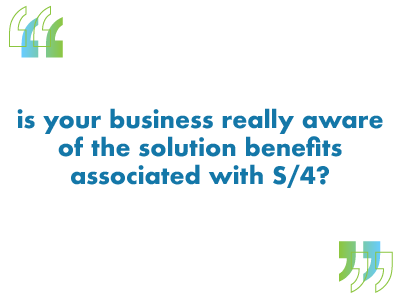 Are you Playing Chicken with your Business Strategy?
Understanding what's new in S/4 must surely be a fundamental element of determining if S/4 supports your business strategy.
This isn't a classic chicken and egg question. It's a clear chicken question - business strategy always comes first.
Business strategy determines both a target destination and a direction of travel. So it absolutely must come first.
Once the strategic direction and tactical objectives are clear, then you can think about the solutions you need to align with your strategic objectives.
Understanding the art-of-the-possible with SAP may help to shape some of your strategic thinking, but you don't start by choosing the technology.
Securing executive sign-off remains one of the biggest challenges facing potential future S/4 projects.
Systems Integrators might claim you can build a business case on technology cost savings (e.g. smaller databases, cloud storage) – but with total IT costs at 4% of your turnover, is that really the hot part of the heat map?
Your S/4 business case needs to enablement strategic value so that S/4 migration costs are lost in the rounding.
To do this, you need to know what new functionality and benefits S/4 offers for each area of your business. And then you can determine when, how or even if you move.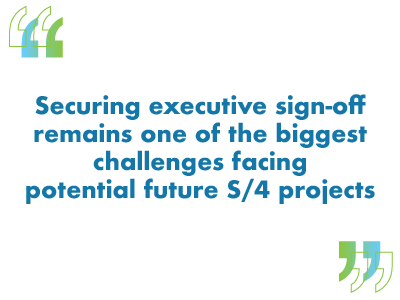 What's the historic reality of benefits realisation with SAP?
If your SAP project isn't supporting a key business requirement, why are you doing it?
Viewing your S/4HANA migration as just a technical upgrade kind of misses the point.
And, it really isn't just a technical upgrade - it has significant change management implications. If it didn't, how would it transform your business?
It's easy to get sucked into a vortex of consulting jargon where you feel the only thing worth focusing on is how you'll approach you S/4HANA journey - which colour field will you tip-toe through - Greenfield, Brownfield, Bluefield, or some horrendous kaleidoscopic multi-coloured LSD laced field of flesh eating Triffids?
What all of this means is the case for transformation must be driven by the business, with technology as the enabler. It's a two way process.
SAP's game of 2025 chicken ran out of runway in 2020. End of life support for ECC was pushed out to 2027 (or 2030 at a cost). And, if that wasn't enough of a motivator, the COVID-19 really threw the anchor out of the dinghy.
Yes, you'll think about S/4 at some point in the next decade.
But what happens in the meantime?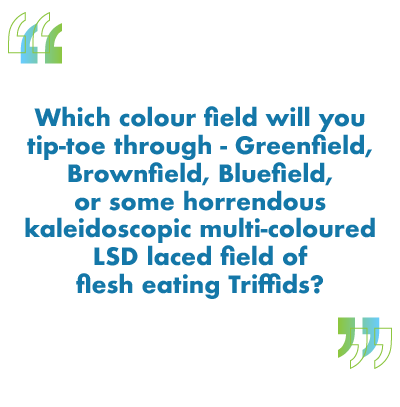 Is now time to for SAP customers to kick-back and bide their time?
No.
You can't stand still with your SAP solution.
SAP's narrative on disruption and digital is true. It suits the S/4 marketing pitch.
Truth is, you can achieve many of the stated benefits of S/4 in ECC.
Fiori isn't exclusively an S/4 technology - although some apps are HANA specific. And Fiori isn't the only UI technology available.
It's not even that good. Some S/4 customers have reverted back to the SAP GUI and others have noticed a drop-off in user adoption after moving to Fiori.
There are dozens of other best-of-breed solutions that can delivery elements of what S/4 promises. You only have to pore over the AWS catalog of cloud-based data lakes and pre-built machine-learning and NLP solutions to realise there's plenty more out there to consider in 2020.
Across many of your core business processes, new technology alone is not enough.
You need to consider the efficiency and effectiveness of your current business processes, your current ways of working and operating model, your data and your controls.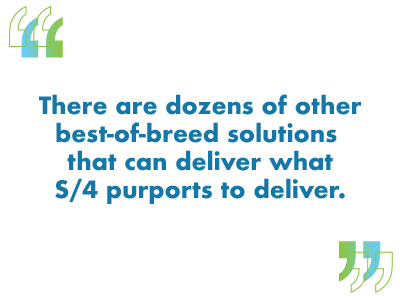 What's in the ECC shaped box you already own?
The reality is, there's value waiting to be unlocked in the ECC system that you've already paid for.
Value that you can realise now. Value which could actually help fund your S/4HANA migration at a later date.
Plus, the business gets the benefit now rather than waiting 5 years.
If you're focused on process improvement initiatives today, you shift on to a transformational footing, defining a model for benefits delivery.
And, getting fit in ECC will only make a future migration to S/4 (if that's what you choose to do) a simpler one.
So, where do you start with SAP today?
You need to know where to focus. Obvious, but how do you do that?
The first step is to look at it through a business lens rather than an SAP salesperson's eye glasses.
You may know how processes are meant to run, but have you considered the efficiency of processes, the complexity, the importance to the business and how they deliver competitive advantage?
Have processes been highly customised to meet specific requirements, or are they largely commoditised and standard?
Understanding and categorising your processes is the first step in determining where to focus your efforts.
This isn't an IT exercise. Ask the business' view on what works well, their pain points, and the stuff they've put up with for years.
If it's time to do things differently, it's time for some honesty and hard truths to avoid the mistakes of previous SAP generations.
Our approach - build yourself a Business Process Framework.
A Business Process Framework helps you to think differently about your business processes.
This isn't a lengthy process mapping or documentation exercise. Quite the opposite - it's about reviewing your business processes through a different pair of glasses.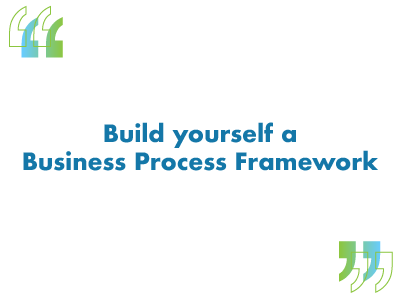 Are we speaking the same business language?
Instead of speaking SAPansese, start by creating a common language that everyone understands - breaking your process hierarchy down into simple constituent parts.
Over time, people refer to different parts of a process in different ways e.g, Procurement, Procure to Pay, Purchasing, Source to Pay.
Building the Process Framework is a great way to standardise your process definitions. We use the American Productivity and Quality Center (APQC) as the de-facto standard for this but the most important aspect here is to have a common definition and stick to it.
The Process Framework introduces a Process Classification Framework - a hierarchical list of business processes broken down into categories (or value streams).
These break down into more granular levels (e.g. Process Group, Process, Activity, Task).
Create a consistent language for business processes that maps to the way work is actually performed in your organisation (not the way that software providers describe functionality).
Do we need to start from scratch to build a Business Process Framework?
If you already have a standard list of business processes, use this as the basis of your Business Process Framework.
However, we advise you standardise on APQC.
Not only is it the most comprehensive open-sourced business process framework available, but there are some other key benefits of using APQC as a foundation:
APQC have 20 process models including a core model and 19 industry variants.
APQC invests time and effort updating their process model as new business models evolve - and are diligent with their version control.
APQC publishes over 2,500 KPIs linked to their process model - providing a ready-made framework for your S/4 business case and analytics design.
APQC provides reliable benchmarking data for a large proportion of processes and KPIs indexed back to their catalogue.
Now you've learned the language, what do you want to say?
Now evolve your Business Process Framework and describe your business processes with meta-data that informs roadmapping and portfolio planning.
Add things like Process Variability, Operational Frequency. Transaction Volumes, Complexity, Isolation (vs. Integration), User Volumes, Change Impact, Workarounds, Usability & Defects alongside each process.
Map the applications that support each process.
It's unlikely you run all of your business processes in SAP. Find which value streams have multiple applications resulting in a need for extensive integration.
Whether you're planning your S/4 move, or looking at immediate ECC value opportunities, understanding your processes in this way helps you prioritise and make sound decisions.
Different views of the Business Process Framework can present information back to the business in meaningful ways.
I'm in love with the shape of you...
One such view is what we call Portfolio Shape Analysis - mapping competitive advantage of business processes to customisation of your SAP solution to drive sensible decision making.
It describes how your processes enable competitive advantage - are they real differentiators adding value to the top line - or focused on driving efficiency and reducing cost on the bottom line?
Why is this important?
Where processes support bottom line cost reduction, they are typically commoditised and should be largely standard. From an application perspective, this means zero customisation.
But, where processes enable your top line competitive advantage, customisation may be the differentiator.
Once you start to look at your processes through this lens, the you can also consider:
Mapping business processes to potential RPA (Robotic Process Automation) opportunities.
Identifying each processes suitability for Shared Service Centre delivery.
Mapping processes to the Toyota 7 Wastes framework to identify cost reduction opportunities.
You know, really sensible stuff that drives business value.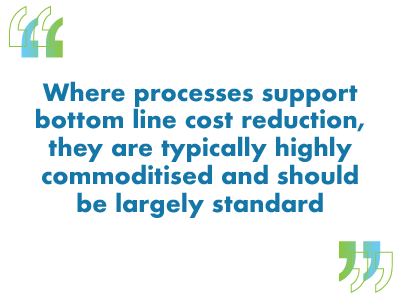 How does this help you get more out of ECC?
Building a Business Process Framework provides a solid foundation to plan your future road-map for ECC or S/4HANA.
Plus, it provides a framework for understanding what's new in S/4HANA, or white-space where you're not maximising ECC functionality you've already paid for.
The Process Framework supports other things like adoption strategies for change management and a solid baseline for SAP test automation.
SAP implementations are often an enabler for a one-company strategy where business processes are standardised on a global basis.
So much so, that implementing a global template on a single SAP instance became the holy grail of many SAP transformations.
But to do this, you need a process framework that can drive a new operating model to drive standardisation home.
And that standardisation doesn't need S/4HANA. It can be done right here, right now. On ECC.
S/4 isn't the answer in the 2020s
Let's face it, you weren't sat there waiting for an in-memory database to replace Oracle along with `a few table changes.
What if you could invest your time and money getting the most out of the ECC asset you have today?
What if you could improve business processes and performance without the distraction of an S/4 programme?
And, what if you could start to simplify your future S/4 journey in parallel?
ECC Value Now sprints.
Focus on quickly establishing how your business processes could be improved today using the SAP solution you already have.
Map this into quick, agile sprints that can be delivered in isolation to reduce cost, disruption and change management effort.
Using your Process Framework, you can quickly assess where you should focus your limited budget for the biggest upside.
Kaizen - focused improvement underpinned by ECC.
Plan out a series of sprints and tackle them in sequence to deliver tangible value to your business users and sponsors.
Applying a structured Kaizen method to your existing ECC solution means you'll get value today whilst identifying background activities that will get you in better shape for your eventual move to S/4HANA.
These improvements don't need to be glacial SAP releases either. Things like data cleansing, archiving, interface re-alignment, business process documentation and test script improvement (or even automation).
If you know you'll be moving to Business Partners in S/4, put the groundwork in now, in ECC.
And ask the techies to sort out any impacted IDOCs at the same time.

Get more value from your ECC system with the Ultimate CoE Toolkit
If you're looking to get more value out of your ECC system your CoE is a great place to start.
By developing your CoE you'll have a strong internal team to take ownership of your SAP system and to deliver the value your business needs from ERP.
The Ultimate CoE Toolkit helps you develop the core 28 capability every CoE should have so you can get more value from your ECC system.